A-Turf Breaks Ground at 60-Acre Complex
Posted February 25, 2009
Flemington, NJ: A-Turf has begun construction of a 6-field baseball & softball complex that will be the country's premier tournament and training facility. Construction will be completed by Summer 2009. Diamond Nation is a new development in Flemington, New Jersey that will play home to the nationally-renowned Jack Cust Baseball Academy as well as the new Jennie Finch Softball Academy – solidifying itself as the premier baseball and softball tournament and training complex in the entire country.
Diamond Nation and its affiliates will have facilities comprised of 60 acres, including separate indoor baseball and softball academies, the largest amateur sports dome in the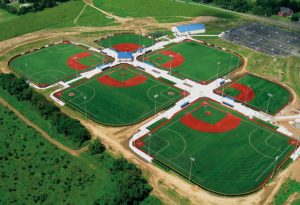 country, and an outdoor tournament complex.
The Diamond Nation complex will consist of four new 90′ fields, two new 50′ to 70′ fields and one existing 90' synthetic turf field for a total of seven fields. The facility features a unique design unlike any other in the country with each of the 90′ fields capable of being converted into two little league size fields each having their own backstops, dugouts, and bullpens. This gives the complex the ability to play twelve games at a time and the versatility to have both baseball and softball games.
A-Turf is happy to be part of such a valuable facility for furthering the sports of baseball and softball; and excited to be showcasing it's A-Turf® exclusive system for the six fields.
Back to News & Blog »