A-Turf Field in Michigan Receives National Award
Posted May 13, 2019
The American Sports Builders Association (ASBA) gave a 2018 Distinguished Facility Award to Clarkston High School (Clarkston, MI) for its renovation of the school's multi-purpose synthetic turf field.
A-Turf replaced the field in Spring 2017 with a brand-new turf system. The overall project also included a new track and fencing. The new field is used for sports, physical education classes, marching band performances, and more.
CHS Athletic Director Jeff Kosin said, "The fact that our turf was recognized for an award is a great feeling, knowing that the time spent on the project was worth it for our student-athletes as well as our community. The level of excellence at Clarkston is set very high and the field did not disappoint."
ASBA is a national organization for builders, designers, and suppliers of materials for synthetic turf fields and other athletic surfaces. The organization offers an annual awards program to recognize excellence in design, construction, and renovation.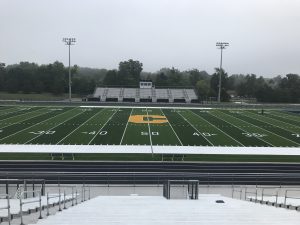 Back to News & Blog »