Buffalo Bills Turf Recycled and Reinstalled at Erie Community College
Posted October 31, 2019
A-Turf completed the replacement of the turf playing surface at the Buffalo Bill's New Era Field just in time for the 2019 NFL season. The work included the removal and recycling of the old A-Turf Titan field, installation of a new E-Layer rubberized shock system, and the installation of a new Titan synthetic turf system.
The salvage process involved removing most of the infill portion of the system via a vacuum-like machine which also facilitates bagging the material. Some of the existing turf rolls were then cut, rolled up, and moved to Erie Community College – South Campus where it was reinstalled in an indoor gym.
Erie County, the owner of both facilities, asked A-Turf to assist them in repurposing this portion of the used turf from New Era field for Erie Community College since it was still in excellent condition. The balance of the material was given directly to the County for resale.
The original system was A-Turf Titan and was specifically designed to extend the life of an owner's purchase. The design worked, as this particular turf is in its 9th year of usage and still looks great.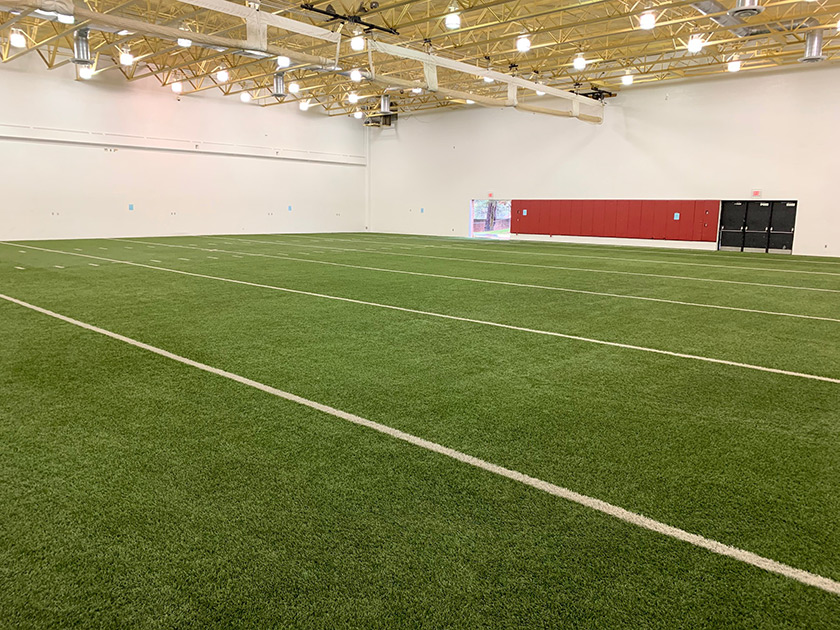 Erie Community College Indoor Gym Featuring Repurposed A-Turf Titan
Back to News & Blog »