Hersheypark Stadium Field Getting A Second A-Turf Premier XP Surface After 13 Seasons Of Heavy Use
Posted February 2, 2016
By Eric F. Epler | pennlive.com
Hersheypark Stadium will be getting a facelift, just in time for the next round of PIAA championships and summer concert series.
Officials at Hershey Entertainment & Resorts Co. confirmed that the synthetic playing surface at the multi-use facility would be replaced in the coming months. The company installed the A-Turf Premier surface in 2003 at a cost of $400,000 and is close to finalizing an agreement on a replacement product.
"Through our extensive maintenance on the turf, we've been able to enjoy a long useful life from the surface," said Hershey communication specialist Kaylee Duggan.
"Part of that maintenance effort involves the ongoing evaluation of the turf's condition, longevity and its fitness for continued use. We made the decision last fall that it had come time to replace the surface and began looking into possible replacement solutions."
Duggan said the replacement turf Hershey is focused on is an advanced A-Turf system, one of five systems offered by the New York-based manufacturer. A-Turf is owned by parent company, Lancaster-based Ecore, which processes recycled rubber.
"We quickly came to the determination that the best outcome for us and the participants who use the field was to go with the same type of surface that had been so well received for over a decade," Duggan said.
"In the athletic field industry, impact testing measures the ability of the playing surface to absorb shock. A-Turf's system with ShockPad has the industry's best shock attenuation rating throughout the turf's life, making it the highest safety-rated turf solution on the market, which is important to us."
According to the A-Turf website, it's optional ShockPad, a rubber layer under the playing surface, provides the industry's top measurement of shock absorption.
Duggan said the original warranty on the current A-Turf was eight years, and Hershey certainly did well on its initial investment. The host venue for football programs at Hershey High and Lower Dauphin, HP Stadium, which opened in 1939, housed hundreds of District 3 and PIAA championships on the turf since 2003.
It's been the site for the PIAA football championships since 1998 and annually hosts the Big 33 Classic in addition to band competitions, 5K runs and other specialty events.
"Given the extensive use and the wide array of events — types that utilize the surface over the years — we're very happy with how the turf performed," said Duggan. "And, more importantly, our experience has been echoed by the athletes, performers and attendees who have experienced the turf first hand."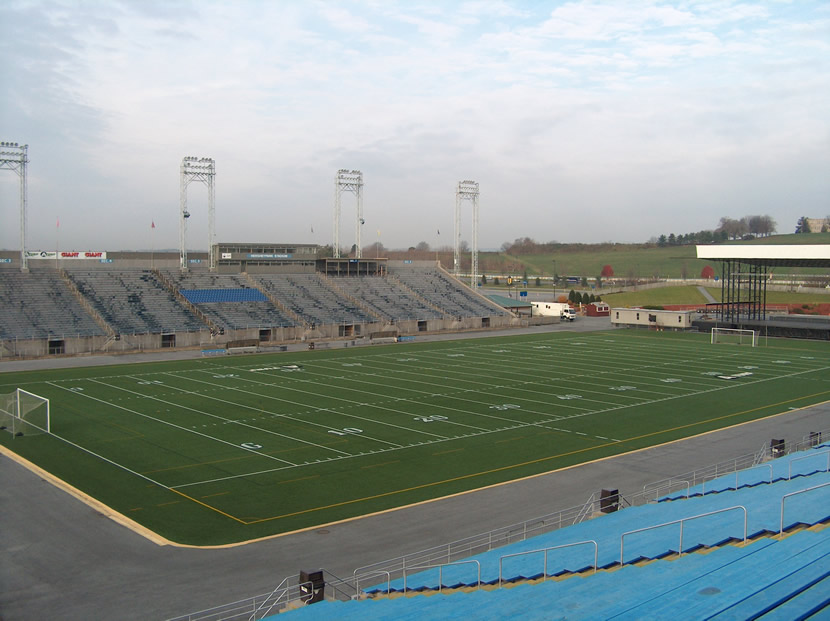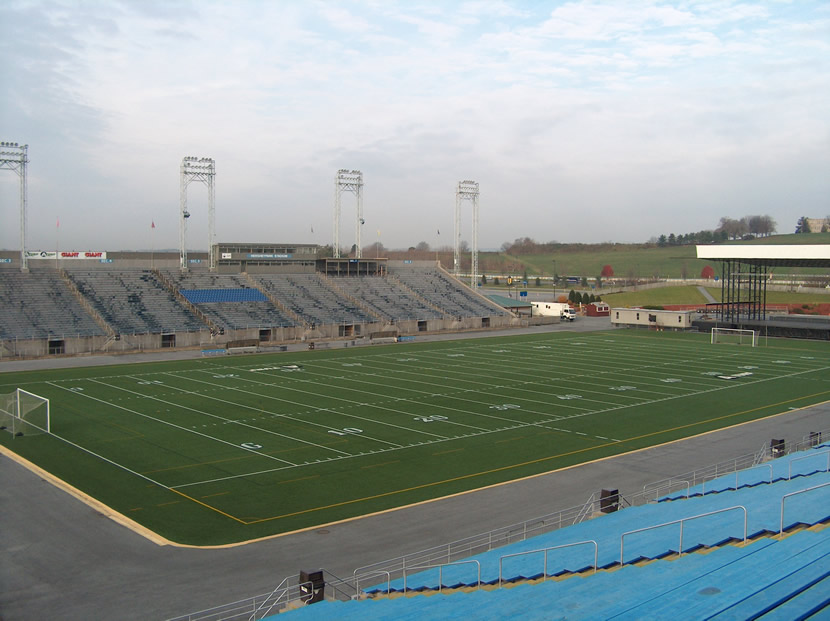 Back to News & Blog »