New A-Turf Fields Give St. Bonaventure University So Much More Pride
Posted February 23, 2018
When it came time to convert the University's natural grass multi-sport field to turf, St. Bonaventure checked out several companies, and talked with other field owners.
While costs were comparable, the school felt A-Turf would deliver a better product. A-Turf's 12-year warranty was also a huge factor in their decision to choose A-Turf, especially because of the heavy use their new field will get.
In addition to A-Turf having a better product and warranty, the school felt A-Turf was the right company because of its fantastic construction experience. That turned out to be even more important as A-Turf dealt with very challenging soggy-summer weather. They proved their worth in delivering a great product and a positive construction experience.
A-Turf also dealt with the challenge of including rugby goal posts that needed to be removed and the holes covered for soccer and lacrosse play.
The 106,666-sq.ft. field for Division I – Atlantic 10 Conference men's & women's soccer and lacrosse, and club rugby features A-Turf® Titan over a ShockPad. The new turf field opened for use in 2014, and immediately became a game-changer for St. Bonaventure.
Associate Athletic Director Steve Campbell shared, "A-Turf is a first-class organization that really cares about its clients and maintained terrific attention to detail at every step of the construction process. And the field's ongoing performance is exceptional."
He added, "We're no longer embarrassed to host games. We know many schools who didn't want to schedule games with our teams due to our field's condition. That's no longer the case, and our university and athletic department have so much more pride now."
Steve is convinced the men and women athletes perform better on the A-Turf field, and the University benefits by having so much traffic on the campus because local schools and clubs are renting the facility for games, playoffs, finals, and events.
Because of such a great experience working with A-Turf on the multi-sport field, St. Bonaventure turned to A-Turf again in 2015 for converting its softball field to turf.
The 49,650-sq.ft. field features a combination of A-Turf® Premier-XP for the infield and A-Turf® Titan for the outfield. A-Turf's solution for doing turf for the entire infield meant the school didn't have to "get the field ready" for spring. And they never cancel games because of bad weather's effect on the field.
Steve Campbell looked back at both experiences, and was quick to say A-Turf made St. Bonaventure University feel really important during each construction process with open communication, quick responses, and a genuine attitude of caring.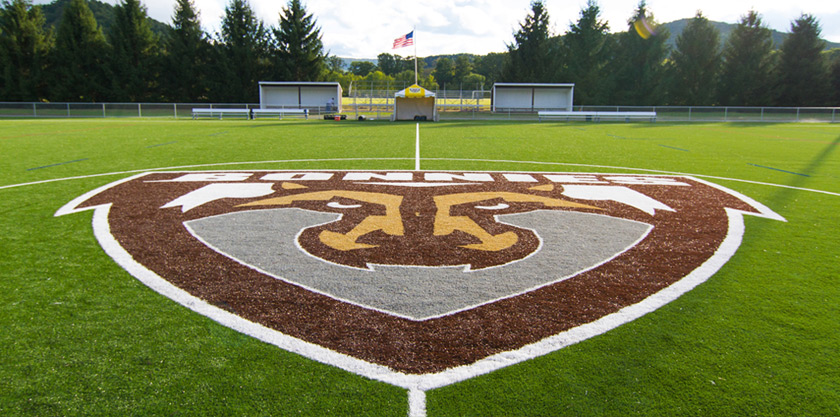 Back to News & Blog »