A-Turf Makes Great First and Last Impression at Pottsgrove High School
Posted March 23, 2017
To say Pottsgrove High School was in need of an upgrade is a bit of an understatement. So, when the school district put out the call for a wish list of improvements, the Athletic Director wasn't shy in throwing his needs into the pot.  Topping his list was a new gymnasium and a much-needed synthetic turf athletic field.
As a land-locked high school, the plan involved transforming a section of land used as the JV softball field and football practice field into an impressive 255' x 360' A-Turf® Titan synthetic turf field. With a PIAA regulation-sized field, Pottsgrove could finally accommodate soccer, field hockey and lacrosse, which until now was being played off campus at the elementary and middle schools.
In addition to bringing boys and girls lacrosse back onto campus, the A-Turf field provided a solution to preserving the natural grass baseball and softball fields that were being overused and beginning to show signs of wear and tear. It also held the promise of reducing the time and expense spent on field maintenance.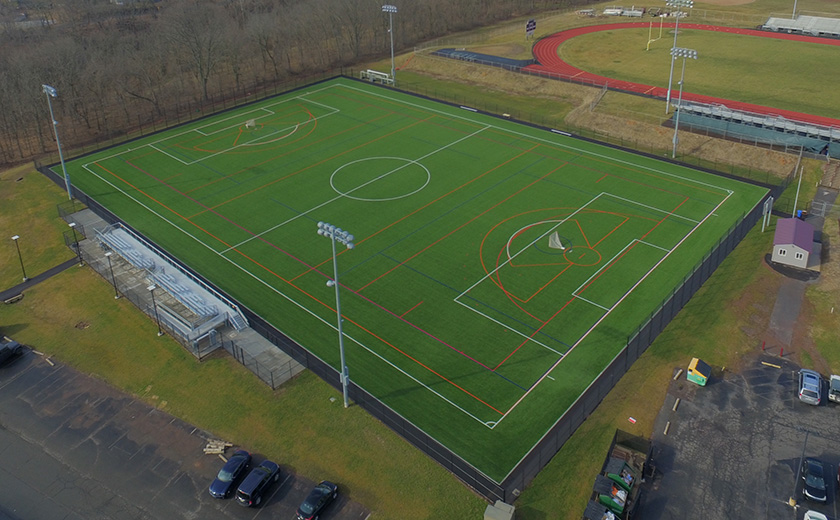 Picking a product
For Gary Derenzo, Athletic Director at Pottsgrove High School, the selection process started with research and ruling out synthetic turf companies based on various challenges and field issues neighboring districts were having with their synthetic turf. Gary's criteria were durability, playability and longevity of the product.
His introduction to A-Turf is credited to his son and being in the right place at the right time.
"I had traveled to the Hill School to watch my son play soccer. He happened to be playing on one of their newly installed synthetic turf fields. As I sat on the turf I was struck by the realistic look and feel of the fibers and the fact that the blade height varied between the soccer and field hockey fields," states Derenzo. "I have been on a lot of fields and I remember thinking… this is really nice."
Derenzo says he was equally impressed by the playability, and was further convinced when he learned the PIAA championship field in Hershey was also an A-Turf field.
"As a PIAA member school, it gave me confidence to select the same company as the PIAA selected. If A-Turf's good enough for state championship games, it's certainly good enough for us."
A point of pride
Playability and durability aside, Derenzo says Pottsgrove's new field also brings some bragging rights and a bit of eye candy to the campus. Sitting directly behind the high school, the field is designed with inlaid lines for multiple sports, boasting a clean, well-manicured playing surface.
"The Titan field is a great addition to our campus and a offers safe and secure playing surface for our students, which is truly important. It also offers flexibility that we never had before. Being able to adhere to a practice and game school without worrying about the field condition is a huge advantage for Pottsgrove."
Derenzo describes the field construction process as well run and without battles. When asked what part of the project impressed him the most he recalls good communication, A-Turf's attention to detail and deep product knowledge.
Back to News & Blog »